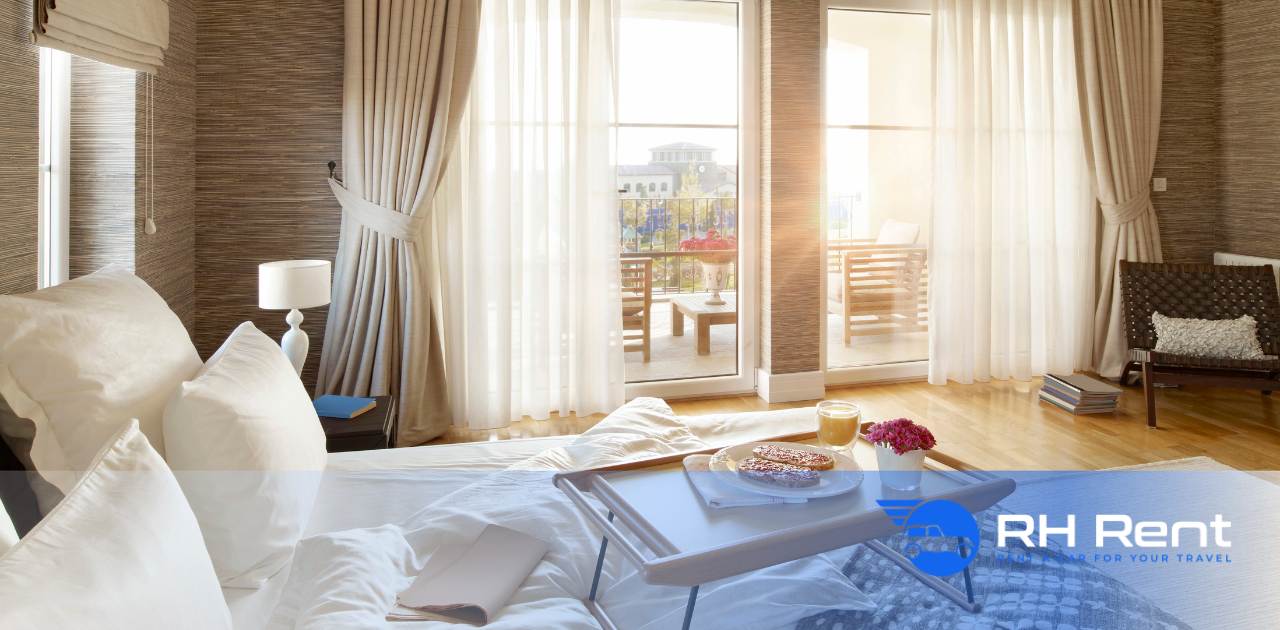 How to Choose Your Perfect Accommodation in Rome
Rome is a dream destination for many travelers. To fully enjoy it, choosing where to stay is of primary importance. The options are numerous and can be confusing: luxury hotels, cozy B&Bs, modern apartments, hostels… In this post, we will guide you through the key factors in selecting your perfect accommodation in Rome, taking into account your budget, travel style, and interests.
Know Your Needs
Choosing the perfect accommodation in Rome starts with a clear understanding of your needs and preferences. Are you a solo traveler seeking an authentic and budget-friendly experience? An apartment or hostel in the lively Trastevere neighborhood might be ideal. For couples seeking romance, a boutique hotel in the Historic Center offers the right mix of luxury and intimacy. Families might prefer a spacious B&B with a kitchen in areas like Prati, near the Vatican, for convenience and accessibility. Groups of friends might find modern apartments in Monti, with its vibrant nightlife and proximity to historical landmarks, ideal. Consider your budget, how much time you will spend in your accommodation, and your priorities: luxury, location, style, or a combination of these.
Location, Location, Location
Choosing a location in Rome is crucial. The Historic Center is perfect for those who want to be immersed in history, within walking distance of iconic sites like the Pantheon and Piazza Navona. Trastevere, with its cobblestone alleys and vibrant food scene, offers a more authentic and bohemian experience. Prati, elegant and less crowded, is ideal for families and travelers seeking a break from the hustle and bustle of the center, yet still want to be close to attractions. Monti, a trendy neighborhood known for its trendy cafes and vintage shops, attracts a young and hip crowd. Each area offers a unique experience, so choose based on what you want to see and do in Rome.
Read also: Discover Rome: 5 unmissable itineraries with your car rental
Types of Accommodation in Rome
Rome offers a range of accommodations for every taste and budget. Hotels range from luxurious five-stars to more economical and functional options. B&Bs offer a more personal experience, often with homemade breakfasts and helpful tips from local owners. Rental apartments are ideal for those seeking privacy and wanting to live like a local, often with equipped kitchens and larger living spaces. Hostels, finally, are perfect for budget travelers and those looking to socialize with other travelers. Each type of accommodation offers unique benefits, so consider what is most important to you: luxury, authenticity, space, or the opportunity to meet other travelers.
Practical Booking Tips
Booking the right accommodation in Rome requires planning and strategy. To get the best prices, book in advance, especially during the high season (spring and autumn). Consider using online booking sites to compare prices and read reviews, but also check directly with the accommodation for special offers. Reading reviews from other travelers can give you a realistic view of what to expect. Also, keep an eye out for special deals and packages, which may include discounts on local attractions or free meals.
Special Considerations
If you have specific needs, make sure your accommodation in Rome can meet them. For those traveling with pets, look for pet-friendly facilities. Families with children might look for accommodations with play areas or child services. For those with accessibility needs, check for the availability of elevators, ramps, and accessible bathrooms. Some accommodations also offer kitchens, ideal for those with dietary restrictions or who prefer to cook.
From Rome to Ostuni: A Comprehensive Road Trip Itinerary through History, Nature, and Gastronomy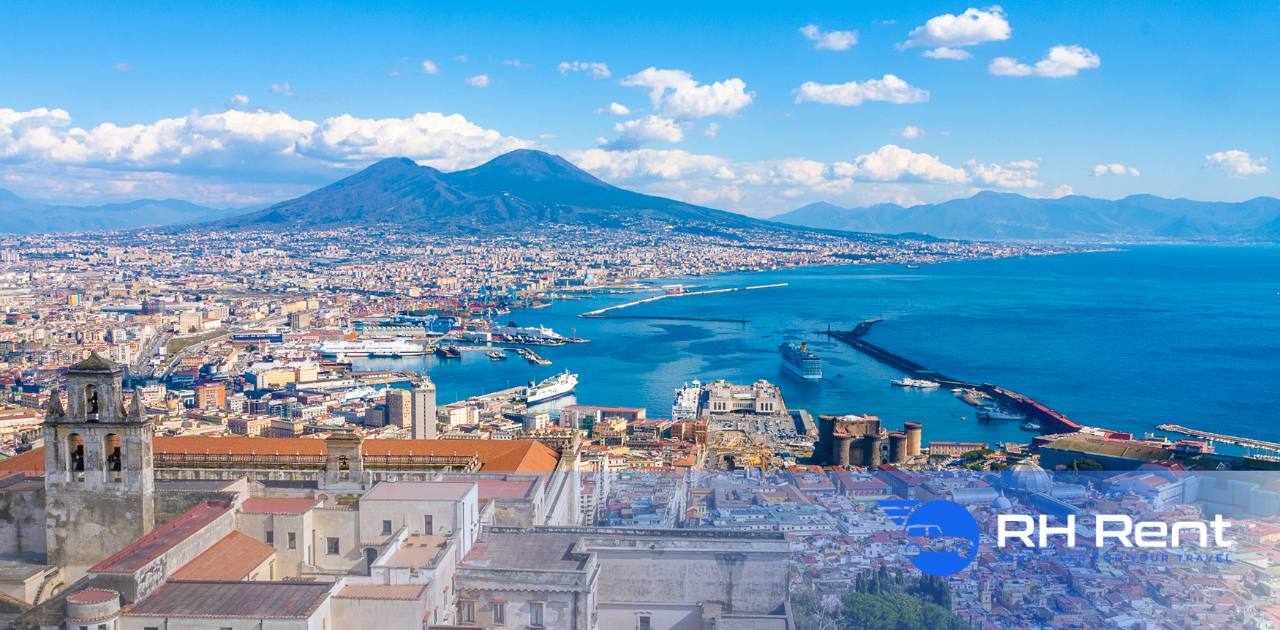 A road trip from Rome to Ostuni can unfold as a unique experience, an opportunity to discover different facets of Italy, from cities steeped in history to natural landscapes, all the way to culinary variety. This one-week itinerary provides insights and tips on how to organize a car journey through some of the most evocative locations in central and southern Italy.
1. Rome: A Dive into History
Rome, globally renowned for its invaluable historical and cultural heritage, serves as the starting point of this itinerary. The city offers a vast array of places to explore, providing an initial taste of the journey through Italy.
See 5 Must-Visit Itineraries in Rome for Road Trip Enthusiasts.
2. From Rome to Naples
Route: A1, approximately 225km
The journey continues towards Naples, a city of many facets. Beyond its historical and architectural beauties, such as the Cathedral and Castel dell'Ovo, Naples offers a dive into authentic flavors with its famous culinary tradition.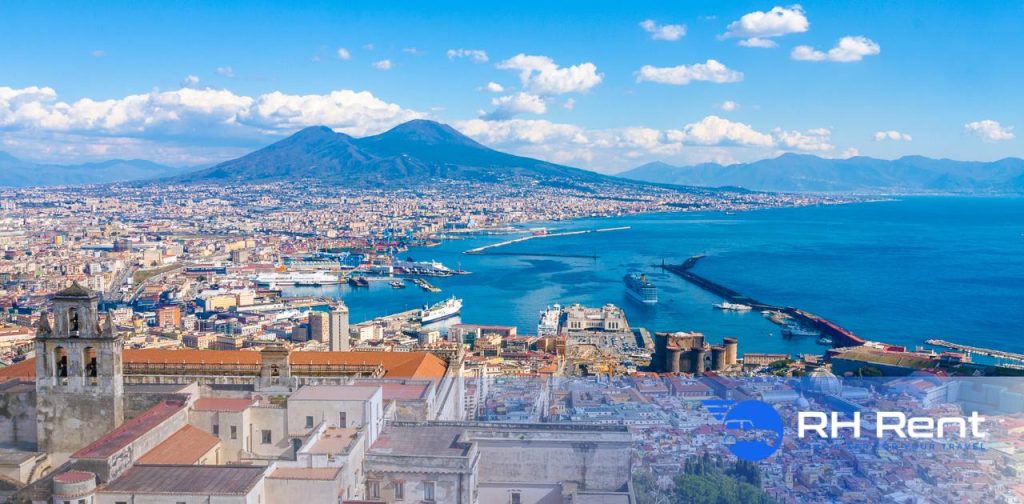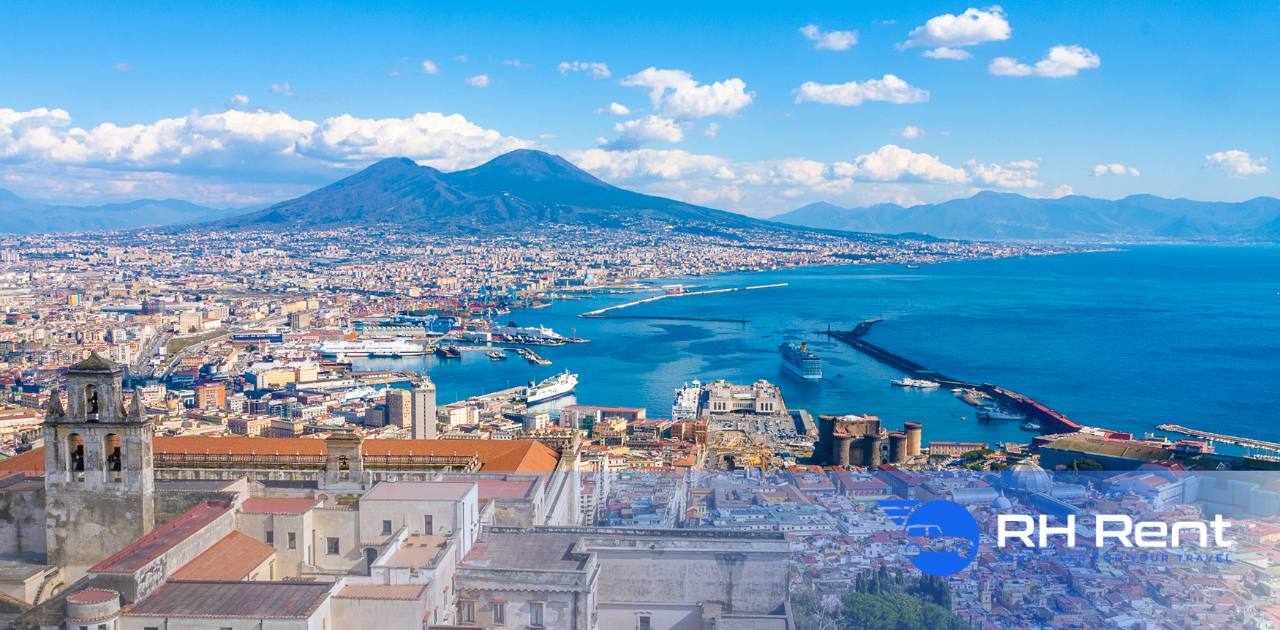 3. From Naples to Matera
Route: A16 and SS407, approximately 250km
The next stop leads to Matera, known for its Sassi and the moon-like landscape that surrounds it. Matera, a UNESCO World Heritage Site, tells stories of ancient times among its rock-cut dwellings and cave churches.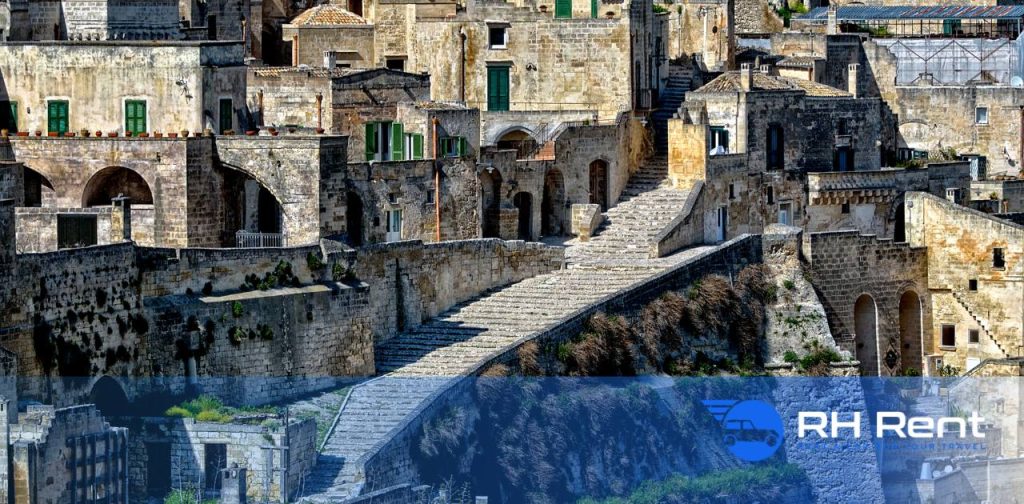 4. From Matera to Alberobello
Route: SS99 and SS172, approximately 80km
The journey proceeds towards Alberobello, famous for its trulli, distinctive conical constructions that lend the landscape a unique character. Alberobello offers a one-of-a-kind experience, with its cobblestone streets and small artisan shops.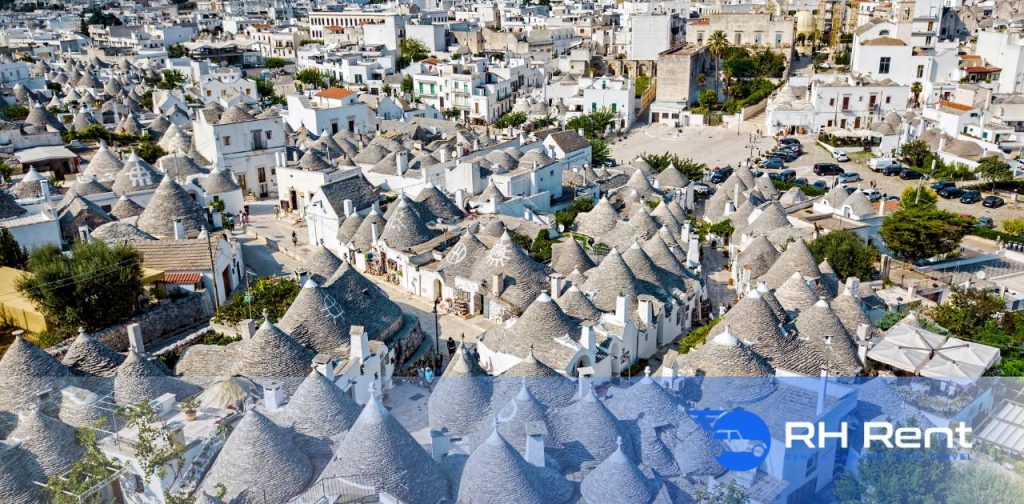 5. From Alberobello to Lecce
Route: SS172 and SS613, approximately 150km
The itinerary then leads to Lecce, the heart of Apulian baroque. Lecce offers an experience rich in history, art, and culture, with its churches, historical buildings, and lively squares.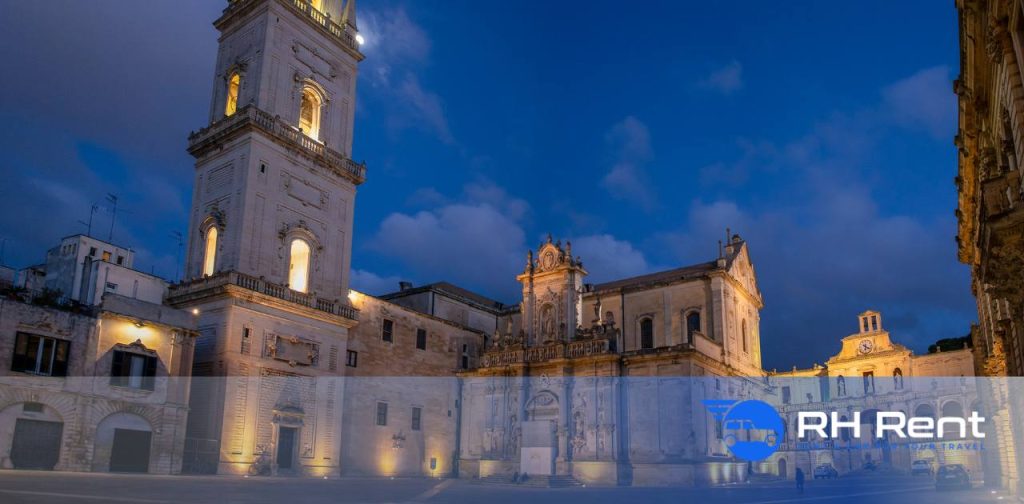 6. From Lecce to Ostuni
Route: SS613 and SS16, approximately 80km
The final stop of the journey is Ostuni, the "White City" of Puglia. Ostuni stands out for its white dwellings, labyrinthine streets, and views over the Adriatic Sea. A visit to the historic center, nearby beaches, and tasting of Apulian cuisine complete the travel experience.
This itinerary from Rome to Ostuni offers a journey through the diversity and richness of central and southern Italy. Each stop presents a unique mix of history, culture, and nature, providing a taste of Italian traditions and landscapes. It is hoped that this route may serve as inspiration for future travels along Italian roads, discovering new places and flavors.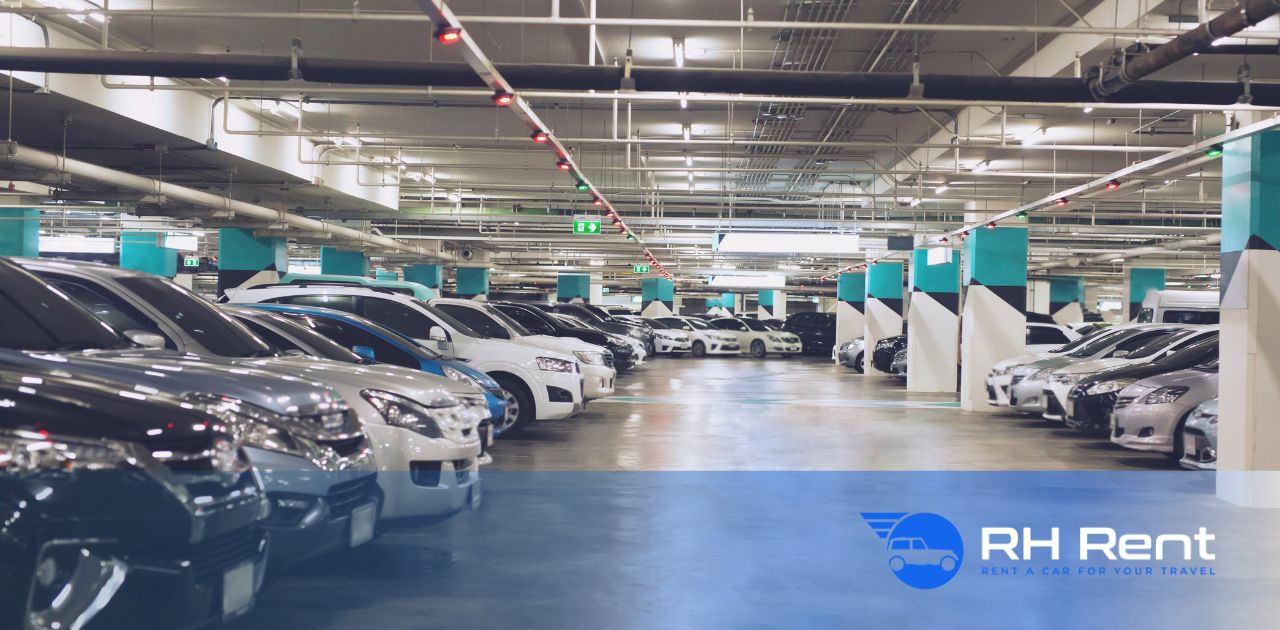 Where to Find Parking in Rome: A Guide to Parking in the Eternal City
Rome, with its millennia-old history and winding streets, is not known for being car-friendly. But with good planning and the right information, parking doesn't have to become an odyssey.
This article will provide you with a detailed overview of where and how to park in Rome, from blue stripes to ZTL zones.
Blue Stripes - Paid Parking
Blue stripes indicate paid parking areas. These zones are located throughout the city center and many suburban neighborhoods.
Rates: Vary depending on the area. Typically, in the historic center, the cost is higher.
Hours: Usually from 8:00 to 20:00, but always check the indications on the columns.
How to pay: You can pay at the automatic machines located near the parking spots. They accept both cash and credit cards. There are also mobile apps that allow you to pay and extend parking remotely.
Hybrid and electric cars: Hybrid and electric cars park for free even in blue stripes.
White Stripes - Free Parking
White stripes indicate spots where you can park for free. However, in many areas of Rome, these spots are reserved for residents. Always check road signs to avoid fines. Guarded Parking and Garages in Rome
In a crowded and busy city like Rome, often opting for guarded parking or a garage can save you time and stress. Here is a list of the most well-known and central parking lots in Rome:
Villa Borghese Parking: Located in the heart of Rome, it is the largest parking lot in the center. From here, you can easily reach Piazza di Spagna, Via Veneto, and Villa Borghese Park. It offers video surveillance services and competitive daily rates.
Terminal Gianicolo Parking: If you are near the Vatican or Trastevere, this parking lot is a practical solution. Located on the Gianicolo, it offers a magnificent view of the city and easy access to the San Pietro area and the main points of interest in the center.
Garage San Pietro: Close to Vatican City, it is an excellent choice if your main destination is this area. With custody and video surveillance services, it ensures that your car is safe while you explore the surrounding beauties.
Via Ludovisi Parking: This parking lot is located near the very central Via Veneto, famous for its elegant cafes and luxury hotels. With its strategic location, it is ideal if you want to stroll in the historic center or shop in high-class boutiques.
Via Giulia Parking: Located on one of Rome's most picturesque streets, known for its Renaissance buildings and art galleries, Via Giulia parking is a convenient solution for those who want to immerse themselves in the city's historical atmosphere.
Garage del Corso: Located near Piazza del Popolo and Via del Corso, this garage is perfect if you want to explore Rome's shopping area or admire the artworks in Villa Borghese.
Trastevere Parking: If your desire is to immerse yourself in Roman nightlife and savor traditional cuisine, the parking lot in Trastevere, located in the heart of this historic district, is the right choice for you.
Opting for one of these guarded parking lots not only guarantees a safe place for your car but also allows you to conveniently access the city's main attractions without the constant thought of finding parking. Naturally, rates vary depending on location and services offered, so it is always advisable to check in advance.
ZTL Zones - Limited Traffic Zones
ZTLs are areas where vehicle access and circulation are regulated based on times and types of vehicles.
Hours: ZTL hours vary, but in general, in the historic center, they are active from 6:30 to 18:00 on weekdays and from 14:00 to 18:00 on Saturdays.
How to recognize them: ZTLs are indicated by signs, and at the entrance to each zone, there are cameras.
Permits: If you are staying in a hotel within a ZTL, you may be entitled to a temporary permit.
Useful Tips for Parking in Rome
Avoid the historic center: If possible, leave your car in a parking lot outside the center and use public transport.
Use technology: There are many apps that help you find parking and pay for blue stripes.
Pay attention to signs: Parking rules vary greatly from one area to another. Always read signs carefully.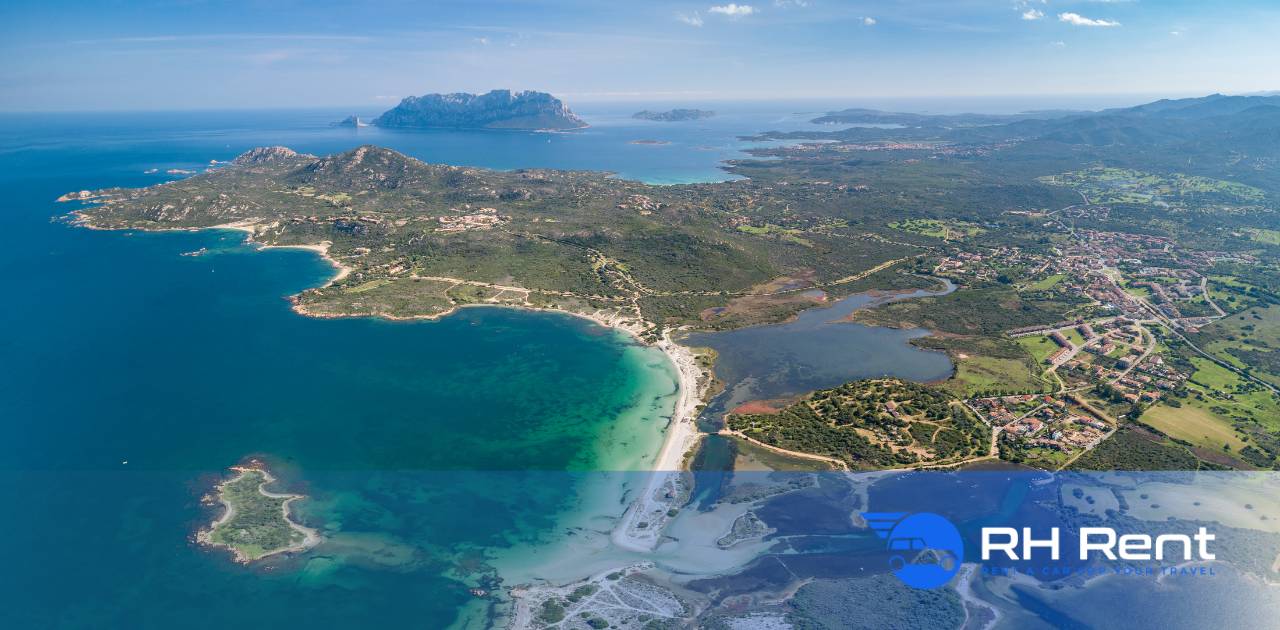 The Best Tourist Destinations to Visit Italy by Car
A road trip is an experience to have at least once in a lifetime, and Italy is certainly an ideal country to discover on the road. Visiting Italy by car allows you to discover its countless villages, marvel at every turn for spectacular views, and visit unique destinations, some far from the tourist hustle. Today, we will guide you through some of the best destinations for an unforgettable car journey, focusing particularly on Lazio, Puglia, and Sardinia, regions where we can offer our services.
Lazio by Car: Between History and Culture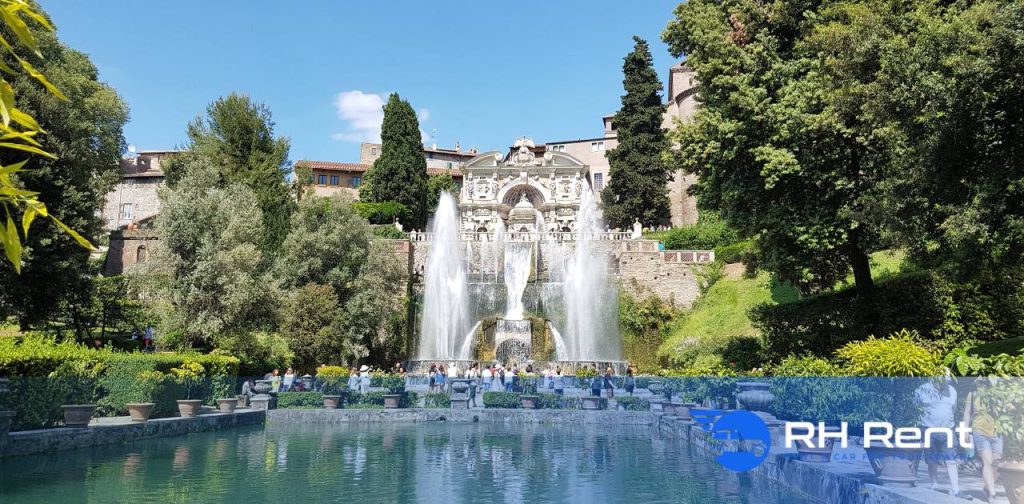 Tivoli Located just 30 kilometers from Rome, Tivoli is a city rich in history and cultural heritage, known for its Villas. The most famous is Villa d'Este, a charming Renaissance complex with its gardens and monumental fountains.

Villa Adriana, located in the picturesque city of Tivoli, is an extraordinary archaeological site that narrates the grandiosity of the Roman Empire. Built by Emperor Hadrian in the 2nd century AD, this vast imperial residence is a stunning example of Roman architecture and engineering.

Villa Gregoriana, hidden among the gorges and waterfalls of Tivoli, is a true natural paradise combining landscape beauty and artistic architecture. This complex of gardens and parks was created in the 19th century to preserve the area's ecosystem and to celebrate the beauty of nature. The villa also hosts the Temple of the Sibyl, an ancient building adding a touch of history and mystery to the surrounding environment.

Sermoneta This picturesque medieval village is located in the province of Latina and is known for its imposing castle, the Caetani Castle. The cobblestone streets, ancient walls, and charming squares make Sermoneta a delightful place to explore. From the castle, you can admire a spectacular panoramic view of the surrounding countryside.

Tarquinia Located on the Tyrrhenian coast, Tarquinia is famous for its well-preserved Etruscan archaeological sites. The painted Etruscan tombs in the Monterozzi site are one of the most important testimonies of Etruscan art. To learn about the history of this ancient civilization, the National Museum of Tarquinia is another place of interest to visit.

Circeo National Park This national park extends along the Tyrrhenian Sea coast and is an ideal destination for nature lovers. It offers varied landscapes, including lagoons, sand dunes, forests, and pristine beaches. You can hike, observe migratory birds, and enjoy the crystal-clear sea of Sabaudia, the most beautiful in the region.

Lakes of Bracciano and Bolsena Perfect destinations for a day trip. Lake Bracciano, located north of Rome, embraces the towns of Anguillara Sabazia, Bracciano, and Trevignano Romano. It offers clear waters and a tranquil atmosphere. Here, you can practice water sports, take a walk along the shore, or visit the picturesque village of Bracciano. Lake Bolsena, on the other hand, is the largest volcanic lake in Europe and offers sandy beaches and crystal-clear waters. Its shores are dotted with charming towns like Bolsena and Montefiascone.
Puglia on the Road: The Land of Sun and Sea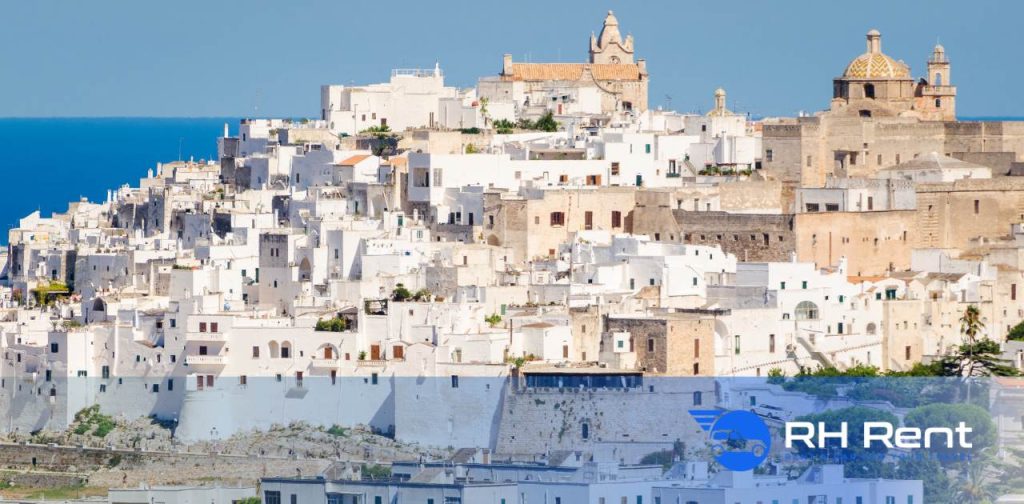 Ostuni Known as the "White City," Ostuni is one of the most fascinating destinations in Puglia. Its main feature is the historic center, with its intricate streets and traditional lime-washed houses. Explore the maze of alleys, discover Ostuni Cathedral, and enjoy the panoramic view from the top of the city. Ostuni is also famous for its delicious and authentic cuisine, with numerous restaurants offering local specialties such as orecchiette, broad beans, and wild vegetables.

Polignano a Mare Located on a cliff overlooking the Adriatic Sea, Polignano a Mare is a small picturesque town with a unique atmosphere. Its winding streets and white houses overlook the crystal-clear waters, creating enchanted panoramas. One of the highlights of Polignano a Mare is the famous Lama Monachile beach, framed by high cliffs and accessible through a narrow gap between the rocks. Explore the medieval old town, visiting the Matrix Church and savoring an ice cream while enjoying the sea view.

Monopoli Monopoli is a coastal city rich in history and natural beauty. Its suggestive port is an ideal place for a romantic walk along the ancient walls, admiring the colorful fishing boats and the crystal-clear waters. Monopoli Cathedral, with its Gothic facade and bell tower, is one of the city's main attractions. Don't miss the opportunity to also visit Carlo V Castle, an imposing fortress offering a panoramic view of the sea and the city.

Alberobello Alberobello is a unique place in the world, famous for its trulli, conical limestone buildings. These extraordinary architectural structures have been declared a UNESCO World Heritage Site. Walking through the streets of Alberobello, you will feel as if you have entered a fairy tale world. You can visit the Sovereign Trullo, the largest and oldest trullo in the city, which has been transformed into a museum. Discover local crafts and savor traditional Apulian cuisine in one of the many characteristic restaurants.

Bari The city of Bari is the capital of Puglia and offers a fascinating combination of history, culture, and modern life. Its historic center, known as Old Bari, is a labyrinth of medieval streets, Romanesque churches, and crowded squares. The Cathedral of San Sabino and the Basilica of San Nicola, which houses the relics of Saint Nicholas of Bari, are places of great historical and religious interest. Don't miss a walk along the promenade, known as the Nazario Sauro Promenade, with its traditional fishing boats and taste one of the delicious fish dishes in the local restaurants.
Sardinia: A Stunning Italian Island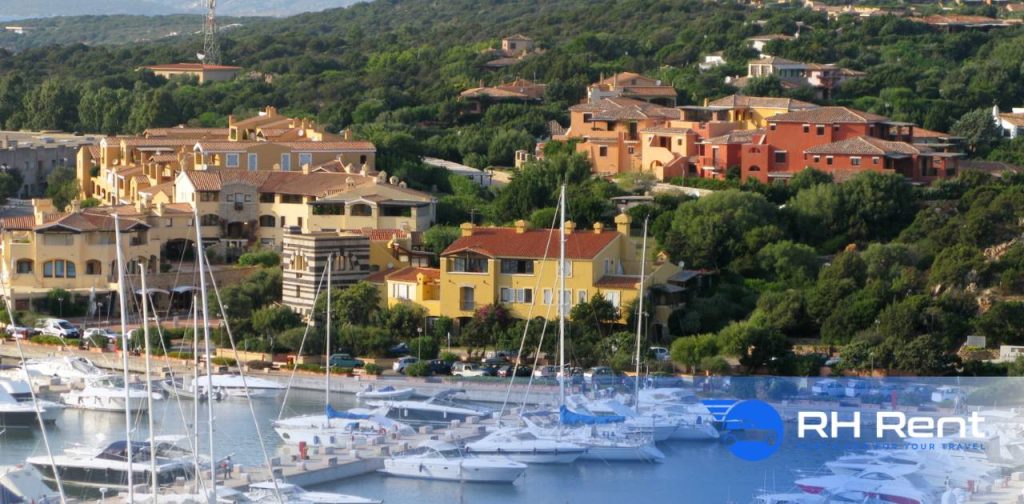 Alghero Located on the northwest coast of Sardinia, Alghero is a city with a unique history. This town has been influenced by Catalan domination, reflected not only in its architecture but also in the spoken language. Explore the old town, surrounded by medieval walls, and lose yourself among the cobblestone streets. The city is also famous for its sandy beaches and the promontory of Capo Caccia, offering a spectacular view of the sea.
La Maddalena Archipelago National Park Located off the northeastern coast of Sardinia, the La Maddalena National Park is a protected natural area that includes a group of islands and islets. This archipelago is famous for its crystal-clear waters, white beaches, and hidden coves. You can explore the archipelago by boat or kayak, admiring the natural beauty and snorkeling to discover the rich marine ecosystem.
Cagliari The capital of Sardinia, Cagliari, is a city rich in history and culture. Located on the southern coast of the island, Cagliari offers a fascinating mix of ancient archaeological sites, medieval streets, and vibrant neighborhoods. Visit Cagliari Castle, a medieval fortress located on a hill offering a panoramic view of the city. Explore the Marina district, with its restaurants and bars, and admire the imposing Santa Maria Cathedral.
Costa Smeralda The Costa Smeralda is a renowned tourist resort located on the northeastern coast of Sardinia. This area offers some of the island's most beautiful beaches, with white sand and crystal-clear waters. Enjoy the sun and the sea in locations like Spiaggia del Principe, Cala di Volpe, and Liscia Ruja. The Costa Smeralda is also famous for its exclusive resorts, golf courses, and luxury restaurants, offering an unforgettable holiday experience.
Porto Rotondo and Porto Cervo Located in the Costa Smeralda region, Porto Rotondo and Porto Cervo are charming seaside resorts, known for the influx of international celebrities. Porto Rotondo is characterized by an elegant marina and beautiful beaches, such as Ira Beach and Sassi Beach. Porto Cervo is famous for its exclusive nightlife, high-fashion shops, and gourmet restaurants. Both resorts offer the opportunity to enjoy the luxurious lifestyle of the Costa Smeralda and admire the luxury boats and villas along the coast.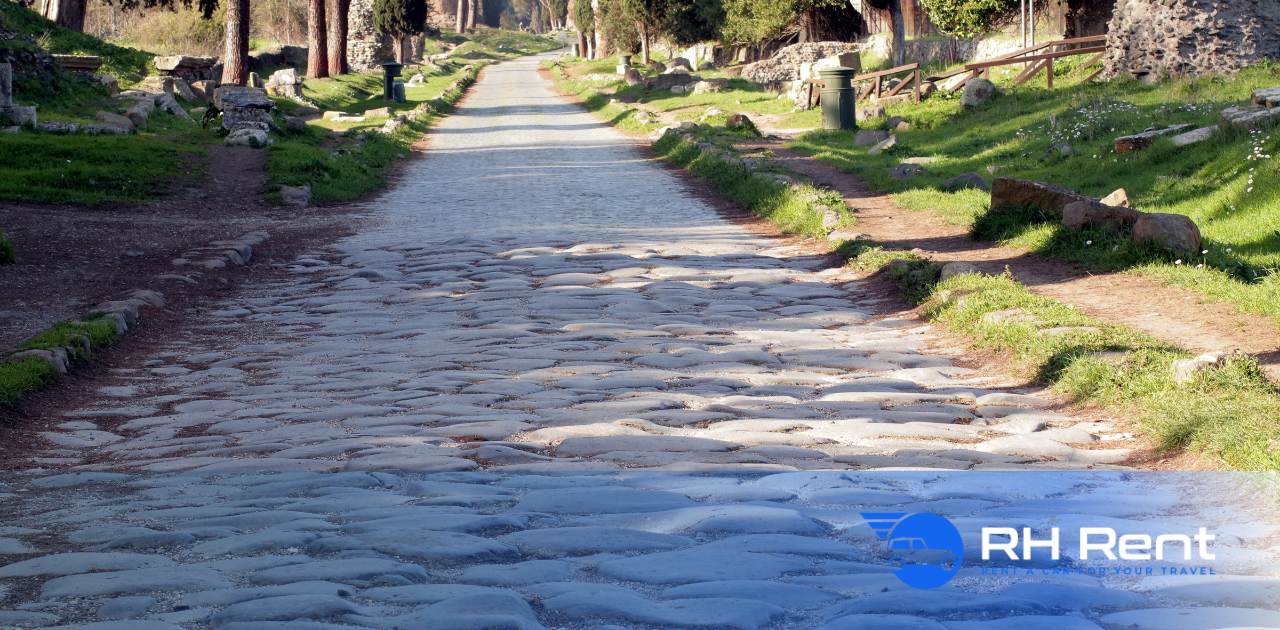 Discovering Rome: 5 Unmissable Itineraries with Your Car Rental
Rome, the "Eternal City," is one of the world's richest historical destinations. Walking its streets is like flipping through the pages of a book that tells millennia of history, culture, art, and gastronomy. If you truly want to savor every corner of this magnificent metropolis, prepare to discover less-traveled itineraries and hidden wonders.
Itinerary 1: The Appian Way
The Appian Way, also known as "The Queen of Roads," is one of the most significant examples of ancient Roman road engineering. Named by the Romans themselves, this designation underscores its importance and prestige. The road has maintained its relevance over the centuries, not only as a work of art but also as a historical testament to the construction capabilities of the Roman Empire.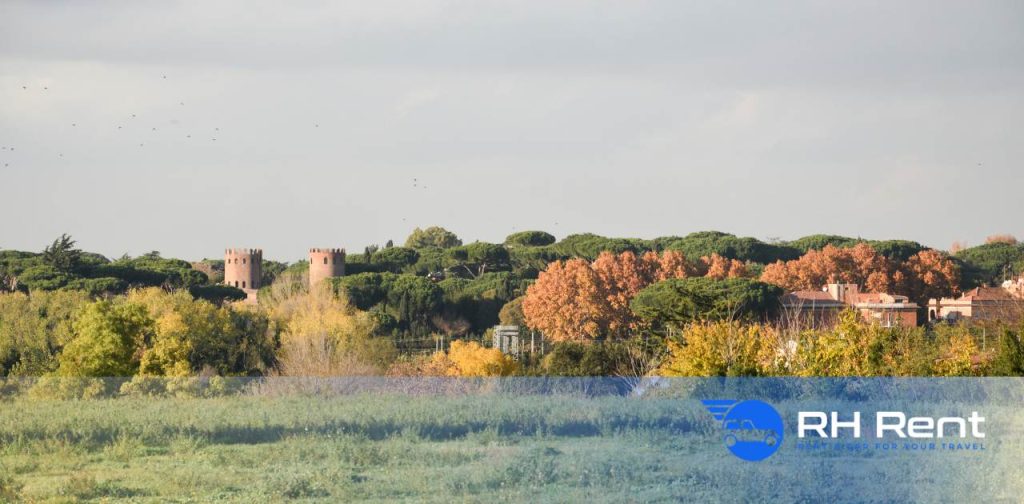 History and Importance: Built in 312 BC by the censor Appius Claudius Caecus, the Appian Way was much more than a simple road: it was a symbol of power and connection. Extending from Rome to the port of Brindisi, it facilitated movements and trade, thus contributing to the strengthening of the Roman economy and the spread of Roman culture in the Mediterranean.
Points of Interest along the Appian Way:
Catacombs of San Callisto: These catacombs are one of the holiest places of ancient Christianity. Inside, there are intricate networks of tunnels and chambers where thousands of Christians, including several popes, have been buried. Their size and complexity reflect the growth and evolution of the Christian community in the early centuries.
Circus of Maxentius: This ancient Roman structure, once the venue for spectacular chariot races, is a testament to the Romans' passion for entertainment and competition. Although now in ruins, the area still retains traces of its original majesty and allows visitors to imagine the excitement and adrenaline of race days.
Mausoleum of Cecilia Metella: This funerary monument was built in honor of Cecilia Metella, a prominent female figure in Roman society. Its imposing structure and decorative art show the importance the Romans placed on remembering the deceased and celebrating their lives.
Stopover Tips: Park near the Caffarella Park, a green oasis perfect for a relaxing break.
Itinerary 2: Rione Monti
Rione Monti stands out as one of Rome's most fascinating areas, serving as a bridge between past and present. This district, being the first among those of the Capital, has seen the birth and growth of the eternal city, preserving over time its unique spirit, which combines the vitality of a contemporary urban center with the deep historical roots of ancient Rome.
History and Culture: Rione Monti boasts a history dating back to ancient Rome when it was populated by the plebeians, the class of non-aristocratic citizens. Although its demographics and function have changed over the centuries, the neighborhood has always retained a genuine and lively character. In modern times, Monti has become a hotbed of creativity, attracting artists, writers, and young innovators, transforming into a cosmopolitan meeting place.
Points of Interest in Rione Monti:
Basilica of Santa Maria Maggiore: This majestic basilica is one of the four papal basilicas of Rome and boasts magnificent architecture and countless artistic treasures. The interior, decorated with golden mosaics and finely crafted sculptures, reflects the religious fervor and artistic mastery of the era in which it was built.
Trajan's Market: Located in the heart of Rione Monti, this ancient building complex was once the commercial hub of Rome. Trajan's forum, part of the complex, is a testament to the importance of trade in the daily life of ancient Rome. Although in ruins, the grandiosity of this place continues to impress visitors.
Via Urbana: Walking along this street, one feels immersed in a movie set in the Rome of the past. With its vintage shops, historic cafes, and ancient facades, Via Urbana offers a perfect combination of history and modernity. It is the ideal place to immerse oneself in the Roman atmosphere, sipping a coffee or looking for a unique piece in one of the many antique shops.
Culinary Tips: Stop the car and enjoy a meal at "La Carbonara," a historic Roman trattoria.
Itinerary 3: The Seven Hills of Rome
The city of Rome, known as the Eternal City, is born from an intricate fabric of myths, history, and culture, and its seven hills are the key to understanding its evolution over the centuries. This itinerary invites you to explore each of these hills, revealing their secrets and hidden treasures.
Description of the Hills:
Palatine: Considered the cradle of Roman civilization, the Palatine is steeped in legend. It is said that this was the den of the she-wolf that nursed Romulus and Remus, the twin founders of Rome. Now, the hill hosts archaeological ruins that show the residences of Roman emperors.
Aventine: This quiet and charming hill offers visitors the famous "Keyhole" at the Villa del Priorato di Malta. Looking through this hole, one can see a perfectly framed view of St. Peter's dome. The Aventine is also home to ancient churches and lush gardens.
Capitoline: The political and religious heart of ancient Rome. Today, it is home to the Capitoline Hill, designed by Michelangelo, and the Capitoline Museums, which contain a vast collection of art and artifacts from ancient Rome.
Quirinal: Dominating the city with its elevated presence, the Quirinal is today the residence of the President of the Italian Republic. The Quirinal Palace, with its gardens and opulent halls, reflects the grandeur of modern Italy.
Viminal: Although less famous compared to the other hills, the Viminal has a discreet charm, offering panoramic views of Rome and hosting various government buildings.
Esquiline: A cosmopolitan and vibrant hill. In addition to the Basilica of Santa Maria Maggiore, one of the four papal basilicas, the Esquiline features a mix of cultures due to its history as a multi-ethnic neighborhood.
Caelian: Located near the famous Colosseum, the Caelian is characterized by ancient churches, green parks, and Roman ruins. It offers a mix of sacred and secular history, making it a place of reflection and exploration.
Itinerary 4: EUR District
The EUR district of Rome represents an important testimony to the urban planning and architecture of the fascist era in Italy. Conceived as a symbol of modernity and Italian expansion, today the EUR is a historical and architectural testimony, as well as a lively residential and commercial neighborhood.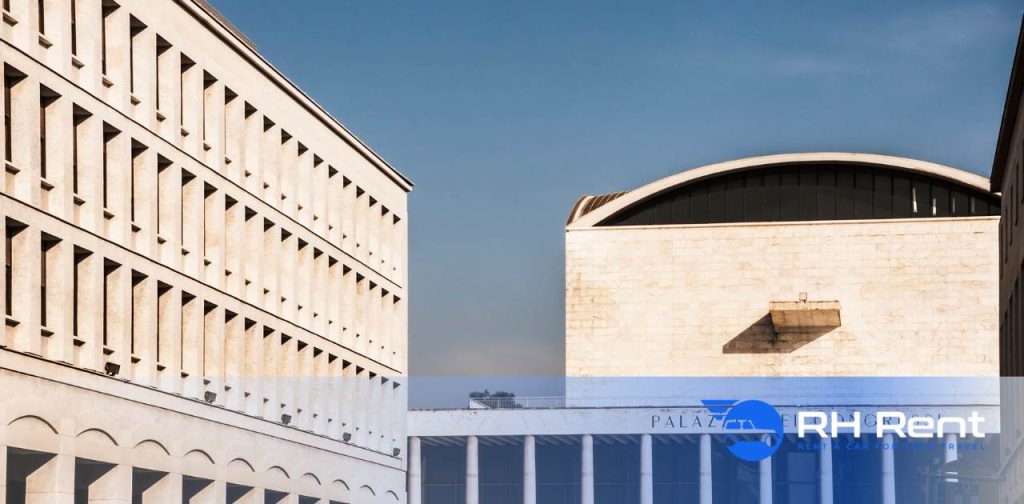 Points of Interest in the EUR District:
Palace of Italian Civilization: Commonly known as the "Square Colosseum" due to its numerous arches, it is one of the most iconic buildings in the EUR. Designed by architects Giovanni Guerrini, Ernesto Lapadula, and Mario Romano, the building was completed in 1943. Characterized by a cubic structure and 54 arches (9 in a row and 6 in height), it has become a symbol of new rationalist architecture. At the entrance, a series of statues represent the arts, sciences, and other disciplines, testifying to the achievements and ambitions of Italy during the period.
Museum of Roman Civilization: Located near the Palace of Italian Civilization, the museum offers a detailed and comprehensive overview of the history of Rome, from its foundation to late antiquity. One of the museum's main attractions is a gigantic relief map of ancient Rome, allowing visitors to see what the city looked like at the height of its glory. Other exhibits show detailed models of buildings, monuments, and other Roman structures, offering a deep understanding of the grandiosity of Roman engineering and architecture.
In addition to these places of interest, the EUR offers many other notable buildings and areas of interest. The EUR Pond is an artificial lake surrounded by parks and open spaces, a popular place for walks and recreational activities. The Marconi Obelisk, dedicated to the inventor Guglielmo Marconi, stands imposing in the district, as do many modern churches and other public structures.
Itinerary 5: The Castelli Romani Area
The Castelli Romani area is a hilly district on the outskirts of Rome, a place of ancient traditions, rich in history and natural beauty. This area, famous for its temperate climate, has always represented an escape from the summer heat of Rome for emperors, cardinals, and, more recently, for the Romans themselves.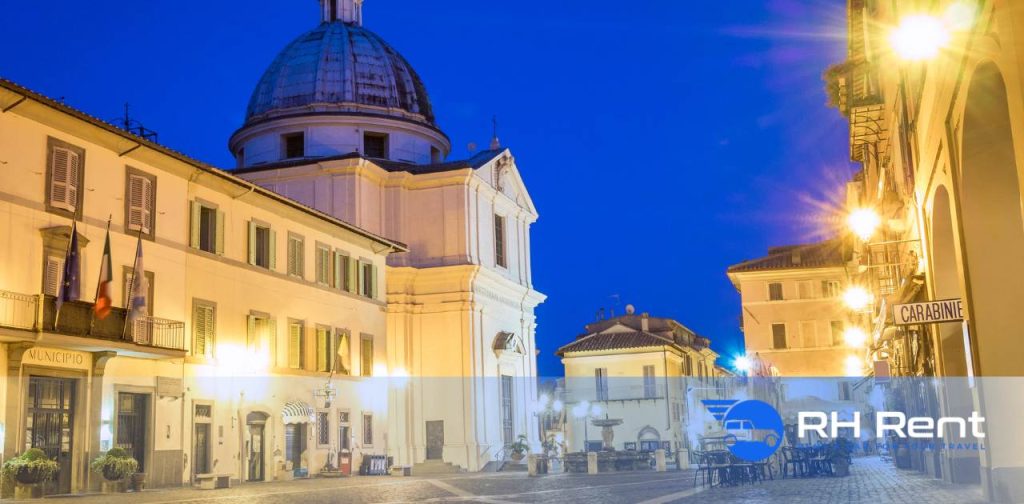 Points of Interest in the Castelli Romani Area:
Frascati: This charming town is perhaps the most famous among the Castelli Romani, particularly for the production of its D.O.C. white wine, Frascati. But Frascati is not just wine. The town hosts splendid Renaissance and Baroque villas, including Villa Aldobrandini, with its panoramic gardens and spectacular fountains. The churches, alleys, and squares of Frascati offer a taste of traditional Lazio life. And don't forget to try the porchetta, another of the typical products of this area.
Castel Gandolfo: Nicknamed "The Pope's Hill," Castel Gandolfo is famous for being the summer residence of the Popes. The splendid pontifical villa directly overlooks Lake Albano, offering spectacular views. Although a papal residence, since 2016 some parts of the palace and gardens have been opened to the public, making Castel Gandolfo an even more interesting destination. The surrounding village is characterized by narrow medieval alleys, ancient churches, and traditional restaurants where you can taste local cuisine. The lake itself offers opportunities to swim, canoe, or simply stroll along its shores.
Other Places of Interest in the Castelli Romani:
Albano Laziale: With its ancient Roman amphitheater and catacombs.
Ariccia: Famous for the porchetta and the suggestive bridge that overlooks a deep gorge.
Nemi: Known for its small volcanic lake and for the wild strawberries, which are celebrated with a festival every year.